Multigum Matt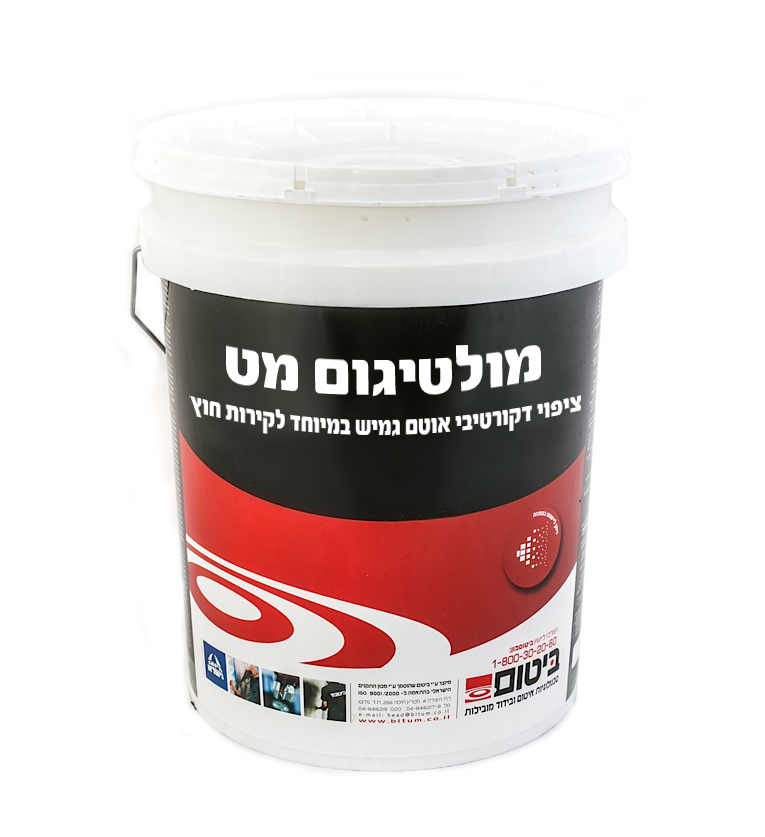 A proffessional external wall coating system – unique crack bridging capability
Cat no. 313M
Multigum Matt is Proffessional combined polymers based sealing and coating material, that when dried becomes a very resistant, long lasting sealing membrane. The high flexibility, combined with its resistance to tear, endow the material with a high bridging capability over structural cracks. Multigum Matt is a paste material, easy to use for spray, roller or brush spreading. Multigum Matt is a water-based, user friendly and non-inflammable material.
Application

Multigum Matt is used for coating and sealing new and old external walls.

Technical specifications:

Appearance:

White (or colored) paste material

Specific gravity:

1.40 gr/ml

Viscosity:

35,000 – 40,000 cps.

Elongation:

400%.

Cold Flexibility:

-30ºC.

Accelerated weathering in U.V. (2000 hours):

Very good resistance.

Crack bridging capability :

Water vapor transmission at 23º c

Very good.

10.5 gr X mm / m² X day
Instructions for use:
Multigum Matt is ready to use and does not require thinning.
Over new or old external walls with stable and strong concrete or plaster with no excessive cracking or over stucco/ old acrylic coating in reasonable condition:
1. In case of existing cracks in width of more the o.3 mm, widen the cracks and thoroughly clean them form loose material, dust and oily substances. Fill the cracks with low-modulus polyurethane mastic (like "Vulkem 921" - produced by "Tremco"). Allow drying for 5 days.
Smoothen the surface near the cracks with an appropriate cement-acrylic based paste. Allow drying for 2 days.

wash the external walls thoroughly in order to clean them from dust and loose particles. Allow drying for 24 hours.

Apply Primer MS in quantity of 150-250 gr/ m², until the substrate is fully soaked, then wait 1-2 hours for drying.

Apply Multigum Matt in two layers, 250-400 gr/m² per layer (depends on substrate condition). Drying time between layers: 3-4 hours. In case of significantly cracked substrate, the quantity of Multigum matt will be increased up to 800 gr/m² per layer.
Drying time:
Contact dry time: 2-3 hours (in 25 ºC and 50% R.H).
Final drying: 5 days.
If there is a change in the weather conditions dry time may change.
Storage:
In the shadow, protected from extreme cold (over 3ºC) and high temperature conditions
(above 35ºc)
Packaging:
22 Kg
MULTIGUM MATT – A revulutionary external wall coating system – unique crack bridging capability
Cat no. 313M
Version: 05/14
Warning and safety measures:
Do not swallow, wash hands with water and soap immediately after use.

Do not apply one day before the rain or about 6 hours before dew.

Do not apply in temperature below 10ºC (unless the relative humidity is less than 50%).

Do not apply if the temperature is higher to 35ºc.

Multigum Matt should not be diluted, do not add water or any other material.

Multigum Matt should not be applied at a rate of more than 1.00 kg/m² for each layer.

During the wintertime, let the first layer of Multigum Matt dry for more than 12 hours prior to application of the second layer.