Flexigum
Description
Tech info.
Images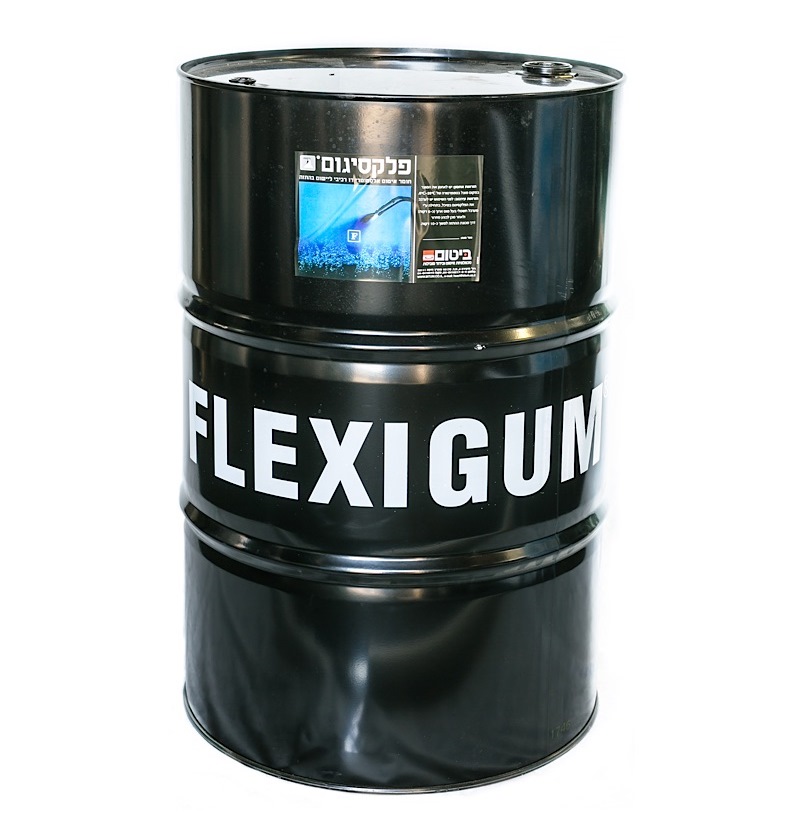 Two Components Elastomeric Sealing Material for Spraying Application
Cat. no. 333
Product Description
Flexigum is a two- components elastomeric sealing material of the highest quality, to be applied by spraying.
Flexigum is based on a special bitumen emulsion, enriched with high concentration polymeric latex of the highest quality. The polymeric latex endows Flexigum with an especially high elasticity and resistance to a wide range of temperatures.
Uses
Flexigum is used for sealing basement walls, tunnels, basement floors and large decks.
Technical Specifications
Specific Weight (gr./ cm²) :

1.02

Crack bridging capability (3 mm thick), mm:

Adhesion to concrete (MPa)

> 3

> 0.30

Elongation (%):

> 1,600

Resistance to water pressure – 4 mm thick membrane, 1 atm, 48 hours :

No leakage

Heat resistance:

100 ºC

Cold flexibility:

- 20 ºC
Application
Surface preparation :
The surface for application should be free of any dirt, dust, grease and unstable parts. Narrow and deep holes or segregating areas should be filled with polymer enriched cemented plaster.
Application :
Flexigum is supplied in 1000 kg containers or 200 kg drums.
Flexigum is to be thoroughly mixed in the container, prior to use.
The application of Flexigum is very easy and effective. Spraying may be immediately stated following the installation of the spraying machine and deployment of hoses.
Spraying is performed through two nozzles, one of which sprays Flexigum while the other sprays a water solution with coagulant material.
Flexigum and the coagulant solution are sprayed simultaneously through the nozzles and these two components fans meet in the air.
Application
Coagulation of Flexigum upon meeting the coagulant solution is immediate and results in a solid elastomeric bitumen layer while clean water is discharged. Since a solid layer of Flexigum is created on the surface area, a higher thickness (4 – 6 mm) may be obtained in the course of continuous spraying.
Flexigum application may be performed at a temperature higher than 7 ºC.
The characteristic thickness required for the basement walls is as follows :
up to 4 meter depth in well drained soils, or as sealing & protecting layer for concrete elements (columns, beams, etc.) : 3 mm in non drained soils, with water pressure:
up to 5 meter depth : 4 mm
at 5 - 7 meter depth : 5 mm
at 7 - 10 meter depth : 6 mm
Please refer to the manufacturer for any other application.
After proper drying period, Flexigum should be covered with geotextile mat, 200 gm/m² and then with smooth HDPE membrane, 0.55 mm thick (protect 5), on top of it.
Covering capacity
A Flexigum dry layer of 1 mm thickness may be obtained from 1.75- 2.00 kg/m² of liquid Flexigum
(depend on wind conditions and abstention of spraying around the designated element).
Drying time
4 days for basement walls ;
5 days for basement floor or floored area.
During the winter season, drying time should be extended by 1 or 2 additional days, whereas the day count includes dry days only.
Packaging:
1000 kg containers, 200kg drums.
Cleaning
The spraying gun should be cleaned in turpentine immediately after applying of Flexigum.
Notes:
Flexigum should not be stored in temperature lower than 5 ºC.
Flexigum should not be swallowed. Flexigum should be kept away from
In case of application of Flexigum on retaining walls, the internal wall will be
Made by casting high workability concrete and not by spraying concrete.
The instructions that appear on the product are based on knowledge and experience amassed over the years. We reserve the right to change these instructions without prior notification. The operator is responsible for keeping informed of the latest updates. These instructions are solely recommendations and do not constitute liability for the product. Prior to use, the user must check the product's suitability, and the application and environmental conditions that meet his specifications. If in doubt, please contact us and we will be happy to instruct you.