Mastigum Primer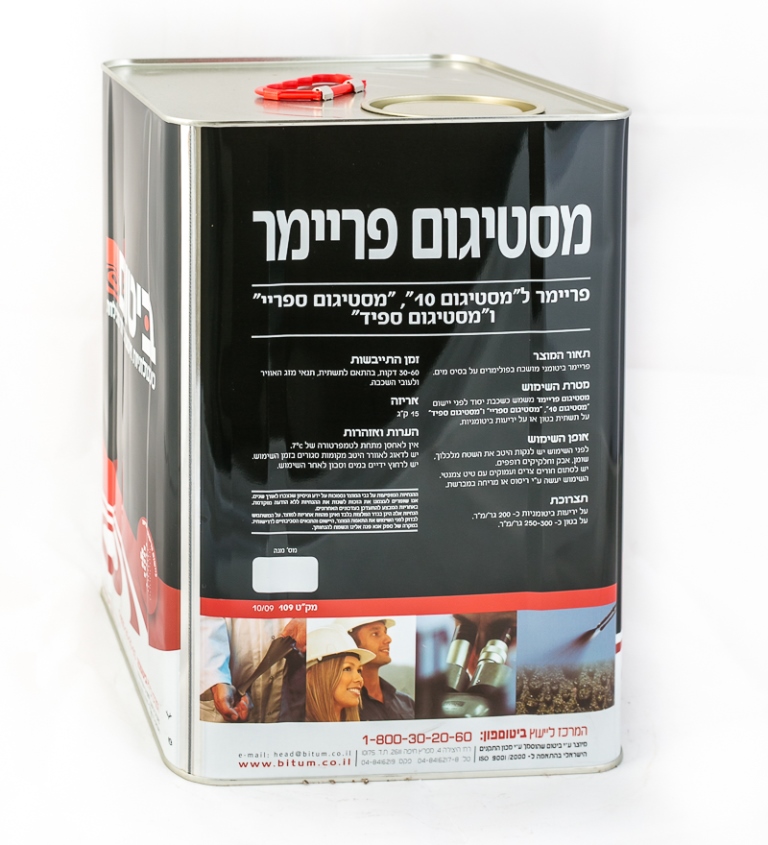 Primer for "MASTIGUM 10", "MASTIGUM SPRAY" and "MUSTIGUM SPEED"
Catalog No.109
Water based, bitumen primer, enriched with polymers.
Application
MUSTIGUM PRIMER is applied as a primer, prior to applying "MASTIGUM 10", "MASTIGUM SPRAY" and "MUSTIGUM SPEED" on concrete substrates or bitumen sheets.
Technical Specifications

Appearance:

Black fluid substance

Specific gravity:

0.97 gram/ml

Viscosity:

700-900 centipoises
Method of application
Clean the surface thoroughly of dirt, oils, dust and loose particles prior to application.
Fill hairline deep fissure with cement mortar.
Spray or use a brush to apply the primer.
Consumption
About 200 gram/m² on bitumen sheets.
About 250-300 gram/m² on concrete.
Drying time
30-60 minutes, depending on the substrate, weather conditions and coat thickness.
1. Do not store in temperature under 7°C.
2. Ensure that enclosed areas are properly ventilated when using Mastigum Primer.
3. Wash your hands with soap and water upon completing the application.
Packaging
15 kg.
4.5 Liters.
Notes
The instructions that appear on the product are based on knowledge and experience amassed over the years. We reserve the right to change these instructions without prior notification. The operator is responsible for keeping informed of the latest updates. These instructions are solely recommendations and do not constitute liability for the product. Prior to use, the user must check the product's suitability, and the application and environmental conditions that meet his specifications. If in doubt, please contact us and we will be happy to instruct you.