Primer 101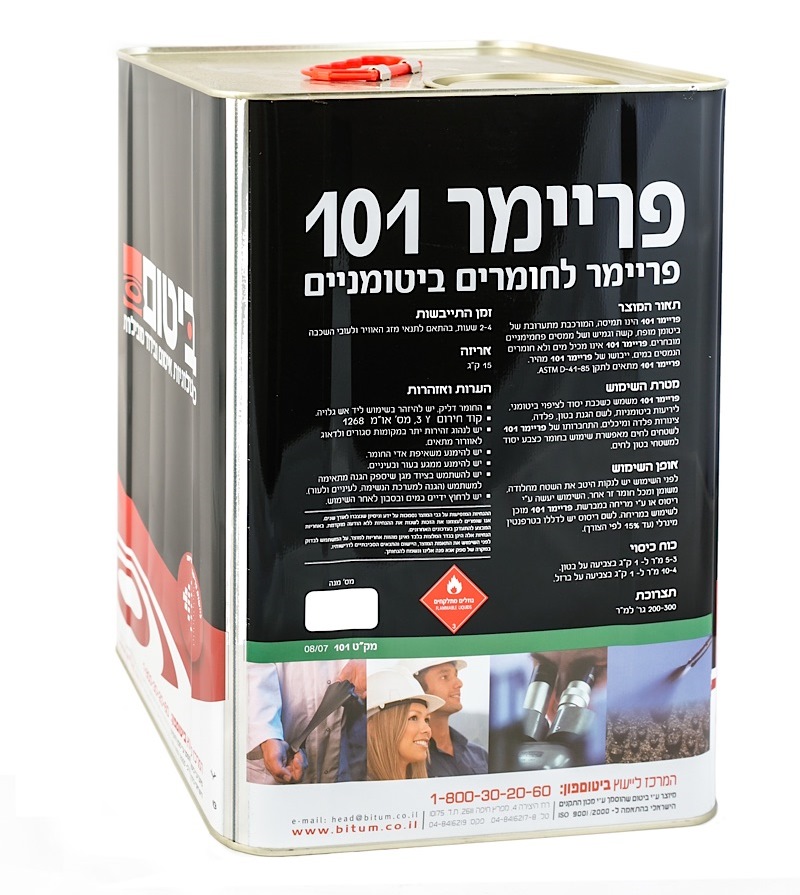 Primer for Bitumen Materials
Cat. no. 101
Product Description
Primer 101 is a solution composed of a blown, hard and flexible bitumen mixture with selected hydrocarbon solvents. Primer 101 does not contain water or water dissolvent materials. Primer 101 dries quickly.
Uses
Primer 101 is used as foundation coating for bitumen coating, for bitumen sheets, for the protection of concrete, steel, steel pipes and containers. Primer 101 binding to humid surface areas permits to use this material as foundation paint for humid concrete surfaces.
Technical Specifications

Primer 101 conforms to ASTM D-41 standard regulations.

Appearance:

Black shiny liquid

Specific Weight :

0.9 gr./ ml

Water Contents :

No water

Viscosity at 25 ºC (CPS):

45 - 55

Residue after refining – Calculated percentage volume on bitumen primer : - up to 225 ºC :

35 minimum

up to 360 ºC :

65 maximum

Penetration at 25 ºC at 100 gr. Weight, 5 seconds (at 0.1 mm.) :

20 - 50

Materials dissolving in trichloroethylene :

99 % minimum
Application
Before using Primer 101, the surface to be treated should be thoroughly cleaned of any rust, grease and debris. Use spraying or paintbrush to apply the primer. Primer 101 is ready for use with paintbrush. For spraying, it should be diluted with mineral turpentine (up to 15 %, according to need).
Coating Capacity
3 – 5 m² per 1 kg for painting over concrete.
4 – 10 m² per 1 kg for painting over iron.
Product Consumption
200 – 300 grams per 1 square meter.
Drying time
2 to 4 hours, subject to weather conditions and coating thickness.
Packaging
180 kg, 15 kg.
4.5 liters, 1 liter.
Safety precautions:
This product contains flammable solvents, only use it in well ventilated areas. Use personal protective gear.
Avoid contact with hot surfaces, parks, flames.
Avoid breathing the material fumes.
Avoid contact with skin, eyes.
If swallowed do not induce vomiting and get prompt medical attention.
Static discharge can cause fire.
Empty containers retain product residues that can be dangerous and should be disposed properly.
Wash your hands with water and soap after use.
The instructions that appear on the product are based on knowledge and experience amassed over the years. We reserve the right to change these instructions without prior notification. The operator is responsible for keeping informed of the latest updates. These instructions are solely recommendations and do not constitute liability for the product. Prior to use, the user must check the product's suitability, and the application and environmental conditions that meet his specifications. If in doubt, please contact us and we will be happy to instruct you.