POLYGUM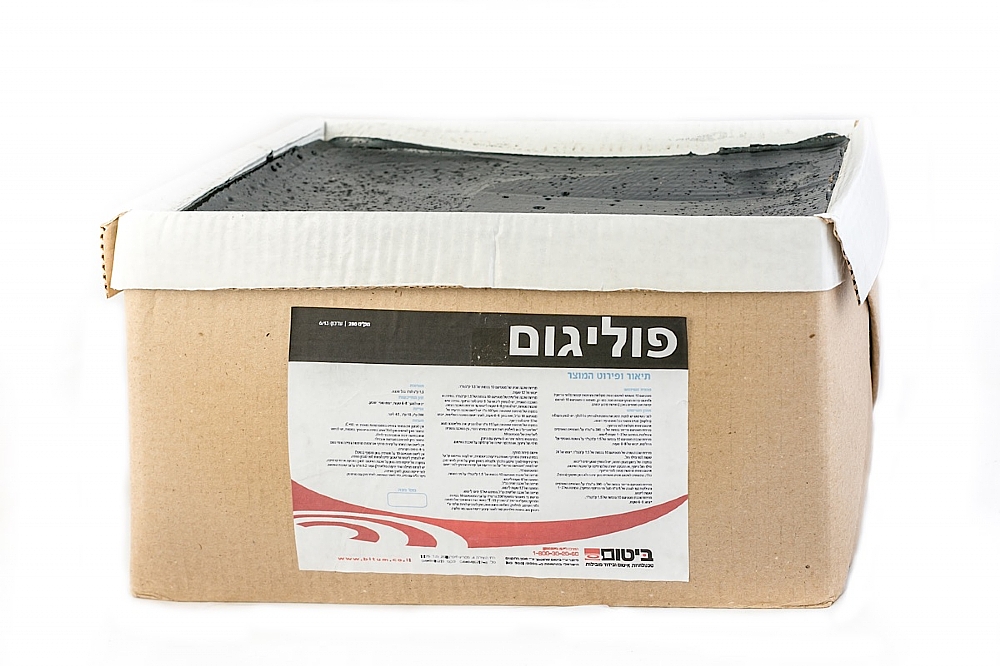 Product Description
Polygum is an elastomeric bitumen modified with SBS that, upon hardening, creates a flexible and sealing layer with bridging capability over cracks in concrete infrastructures. Polygum is an excellent sealant, which preserves its flexibility within a wide range of temperatures ; it "cooperates" well with the concrete when bridging over the cracks originating from thermal stress and it is suitable both in cold and hot climates, creating a flexible, sealing membrane immediately upon cooling.
Objective for use
Polygum is used for sealing roofs, as a primary layer before bitumen membranes application or in areas with multiple installations on the roof. Polygum is also applied for sealing cellar floors, cellar walls, basement beams. Polygum also maybe used to fill joints or cavities in concrete or asphalt pavements.
Technical specifications:
| | |
| --- | --- |
| Specific weight : | 1.02 |
| Minimum flash point: | 250ºC |
| Softening point (R&B): | 102ºC |
| penetration | 40-50 (0.1 mm) |
| Resistance to heat: | >105ºC |
| Cold flexibility(-10ºC): | No cracks |
| (a 30 mm dia.rod,) | |
| Elongation: | 1000% |
| Recovered flexibility after 500% elongation: | 90% |
INSTRUCTIONS FOR USE
Surface preparation:
The infrastructure should be even, free of protrusions and concavities, free of flimsy particles, waste and debris. All the areas designated for sealing should be thoroughly cleaned from dirt, concrete crumbs or grease. The structure should be totally dry of any dampness,
Whenever the horizontal and vertical surfaces, the corner should be designed at a 5 cm radius.
On the surface readied as specified above, a layer of primer 101 should be applied in quantity of 300gr/m²
Drying time: 2 – 4 hours, according to the weather condition.
The sealing operation:
Polygum heating and dissolution:
In order to preserve Polygum original features, strictly observe the following instruction: Polygum is supplied in drums. Heating Polygum should be carefully performed at 190ºC - 200ºC until
Complete dissolution of the bitumen mass, always monitoring the temperature (see: warning, below).
Polygum should be applied, according to the specifications, on the area that had previously been treated with the primer and had thoroughly dried, and as follows:
1. on roofs before applying bitumen sheets – in such a case, a coat of Polygum should be applied at minimum thickness of 2 mm (2 kg/m²). wait a short time for hardening before welding;
2. on cellar floors, coat with two (2) layers of Polygum. The first layer will be 2 mm thick (2 kg/m²)
Over which a glass net (interglass) should be embedded, following which the second layer of Polygum should be applied at a thickness of 2.5 mm (2.5 kg/m²).
3. the floor sealing layer should be protected by a concrete measure of 5 cm thickness or by HDPE sheets, such as "bitudrain T-10".
4. on cellar walls, two (2) layers of Polygum should be applied: the first layer should be of 1.5 – 2 mm thickness, with an embedded glass net while still hot. Following which, the second layer of Polygum should be applied with the same thickness of 1.5 – 2mm.
In special cases and upon request, three (3) layers may be applied, at a total thickness of 4.5. – 5mm. 1 kg of Polygum should be applied to achieve a layer of 1 mm thickness.
On cellar walls, Polygum should be protected by protective and drainage sheets of the bitudrain T-15 or protective and drainage sheets of the "bitudrain T-10" with the protrusions towards the earth (protection without drainage) or by foamed polystyrene P-30 boards with a thickness of at least 3cm, for protection only.
5. Filling of cracks in asphalt roads - the crack should be cleaned with air pressure. The asphalt should be dry prior to the application of Polygum. The Polygum should be heated in double jacket oil heater, in order to observe that the temperature will not pass the 200°c. when the Polygum is liquid, you need to pure it into the crack and fill it.
Consumption
1.5 – 2.0 kg/m² for each layer (typical for coating applications)
Packaging
170kg drum, 18 kg pail, 12 kg carton box.
Warnings
Careful heating of the drum walls must be strictly observed: heat one side until a sort of hot bitumen "chimney" is created, from the drum bottom till the bitumen top. Only then, it would be possible to heat the drum on all its sides until bitumen dissolution.
The instructions that appear on the product are based on knowledge and experience amassed over the years. We reserve the right to change these instructions without prior notification. The operator is responsible for keeping informed of the latest updates. These instructions are solely recommendations and do not constitute liability for the product. Prior to use, the user must check the product's suitability, and the application and environmental conditions that meet his specifications. If in doubt, please contact us and we will be happy to instruct you.