Mastic 244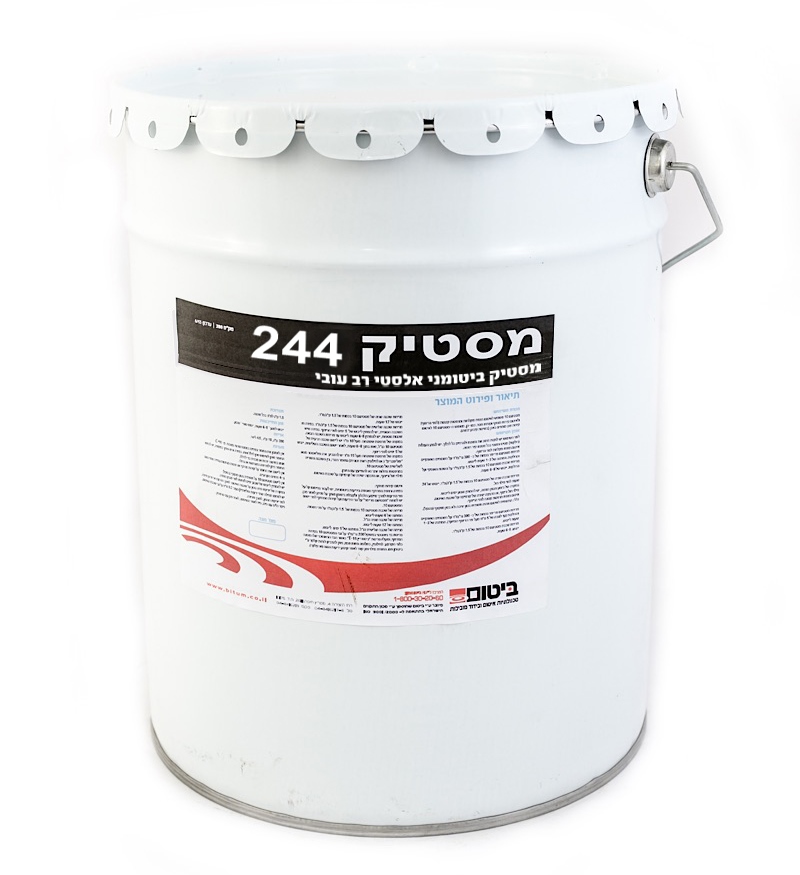 An elastomer bitumen sealing material
Cat. no. 244
MASTIC 244 is an elastomer bitumen sealing material modified by polymer elastomer SBS. Mastic 244 has a high viscosity and excellent sealing capability. The material demonstrates high flexibility and elasticity in wide temperature range (-10°c to 100°c).
Mastic 244 is easy to use and requires no heating.
Uses
MASTIC 244 is used for sealing cracks, seams and floor-wall contact points, vertical walls (of concrete, asbestos or metal). In addition, "Mastic 244" can be used to finish bitumen sheet works in hard to reach areas.
Technical Specifications

Appearance:

Shiny black paste

Specific weight:

1.06 kg.

Viscosity:

Paste material

Solid contents (%):

66 min.

Heat resistance at 100°c

Material doesn't slip or liquify

Cold flexibility at -10°c

Material doesn't crack

Stagnant water resistance

When sunk in glass net material withstood stagnant water exposure without affecting its properties.

Elongation at break:

1000%

Resilience:

80%

Climatic resistance:

Good (no cracks after 1000 hours of UV - ASTM G53/1993)
MASTIC 244
Cat. no. 244
Application

a. seal cracks:

Enlarge crack to 1.5 cm in wide and 1 cm depth.
clean crack surface well.
coat crack with "Primer 106". Wait 1-2 hours until dry.
fill crack with Mastic 244.

b. Vertical and slanted sealed surface patch work:

Clean surface well.
place "Primer 106" on desired area at a quantity of 300 gr/m².
wait until dry. Coat with Mastic 244 at a minimum thickness of 3 mm.

c. Sealing completion for bitumen sheets:

Clean surface well of all dirt, dust and debris.
Heat sheets before bitumen treatment to remove all undesored coating like polyethylene and talc.
Coat sheet with Mastic 244 at a thickness of 5 mm minimum. Coat surface 8 cm from each side of the seam line of the two adjoining sheets.

Consumption

Due to application.

Drying time

Contact dry time – 24 hours.

Final dry time – one week.

Packaging

18 Lit., 4.5 Lit.
Safety regulations:

This product contains flammable solvents, only use it in well ventilated areas. Use personal protective gear.
Avoid contact with hot surfaces, parks, flames.
Avoid contact with skin, eyes.
If swallowed do not induce vomiting and get prompt medical attention.
Static discharge can cause fire.
Empty containers retain product residues that can be dangerous and should be disposed properly.

The instructions that appear on the product are based on knowledge and experience amassed over the years. We reserve the right to change these instructions without prior notification. The operator is responsible for keeping informed of the latest updates. These instructions are solely recommendations and do not constitute liability for the product. Prior to use, the user must check the product's suitability, and the application and environmental conditions that meet his specifications. If in doubt, please contact us and we will be happy to instruct you.