Mastigarden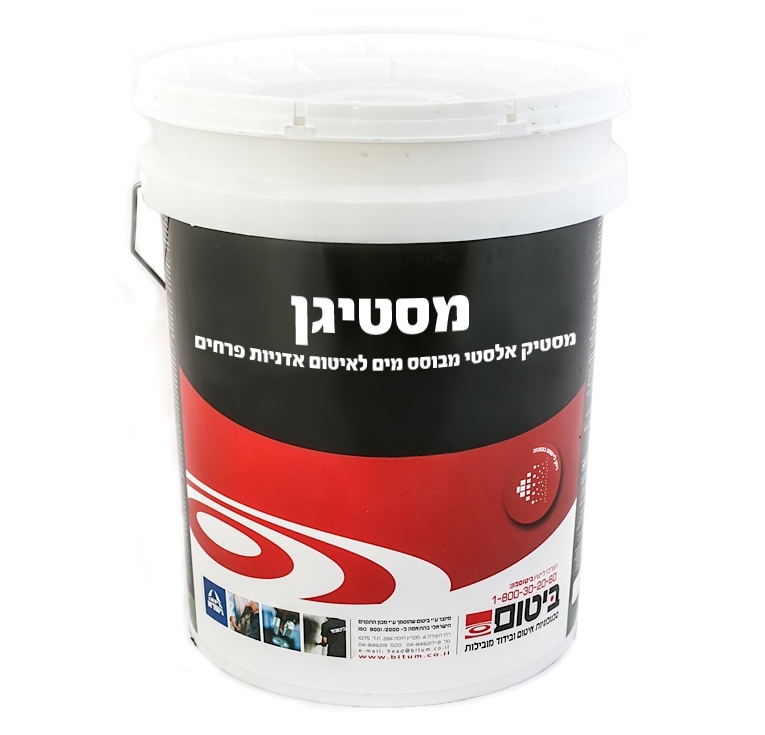 A waterbased bitumen elastomeric sealing material
Cat. no. 246
Mastigarden is a waterbased bitumen elastomeric sealing material.
Mastigarden has excellent sealing features exhibiting flexibility and elasticity in a wide range of temperature (from –10°C to 100°C).
Mastigarden contains a special antiroot agent according to DIN 4062, in intensified quantity.
The Purpose
Mastigarden is mostly suitable for sealing of flower boxes and small roof gardens.
Technical Specifications

Appearance:

Black and brilliant paste

Specific weight:

1.18 gr/m³.

Viscosity:

> 40,000 CPS

Solid Content (%):

Heat resistance at 80°c:

Material doesn't slip or leak

Cold flexibility at -10°c:

Material doesn't crack

Stagnant water resistance

Mastigarden is resistant to stagnant water and remains attached to the base without generating bubbles.

Elongation at break:

1000%

Resilience:

85%

Climatic resistance:

Very good (after coating with "bitumsilver").
Application
Before use the surface shall be cleaned and all dirt removed.
Primary layer of Mastigum primer shall be applied and dry for 1-3 hours. Then the coating shall applied as follows:
Apply a layer of Mastigarden,5 kg m², and let dry for 2-4 hours.
Apply the second layer of Mastigarden,5 kg /m². let it dry for 2-4 hours.
Apply the third layer of Mastigarden, 1.5 kg/m². let it dry for 7 days prior to filling with soil for cultivation.
For drainage improvement of the flower box, it is recommended to spread a geotextile fleece over flower box walls/floor.
Then, spread a small size aggregates in layer of 5 cm thick and spread another layer of geotextile prior to filling with soil for cultivation.
Consumption
1.5 kg/m² in each layer (3 layers).
Drying time
Dry to contact time – 2-4 hours.
Final dry time – one week.
Packaging
18 Lit. , 4.5 Lit.
Notes
Do not store in cans at temperatures under 10°c (50ºf).
This product is ready for application and should not be diluted. If appears slightly thick, mix manually or mechanically to reduce viscosity.
Use an appropriate "Airless" sprayer to apply the product.
Immediately after use, clean tools first with water, then with turpentine.
The concrete surface will be dry for at least 3 days prior to the application of
Do not apply the Mastigarden, if rain is expected within the next 4 days.
A flooding test may be preformed after 7 days from completing the application.